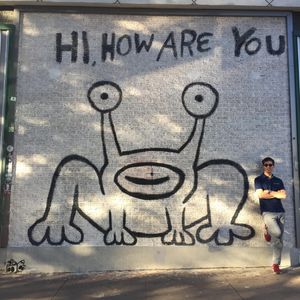 I journeyed to Austin, TX on 10/15 with about 30 songs.  It was a rough go at first.  My flight leaving San Francisco was scheduled to leave at 6:15pm and supposed to be arriving by midnight.  In reality I left SF at 10:40pm and arrived by taxi at Tom's house at 5am.  I was feeling miserable.  It was supposed to be our biggest day of recording and I had no idea where the energy was going to come from. 
This is my "Emotional Self" singing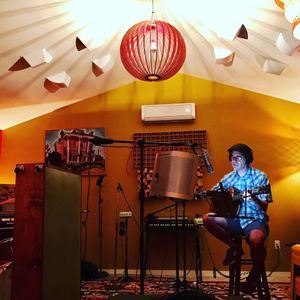 The tracking went very smoothly because Tom is a true champion of the drum kit and arrangements were completed for many songs quickly.  It helped immensely that Tyler already had amazing drum sounds.  He's a great engineer (pay attention Austin bands).  Half the songs seemed destined to be fairly upbeat - rockers really.  We were done with about 8 by the end of the day. Was it GBV that had an album called "Do the collapse?"  That's what I did next. 
Tom is one of the best (the one on the right)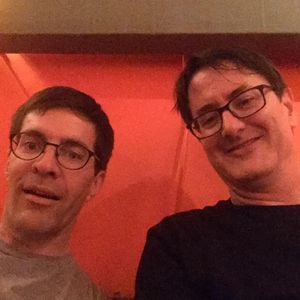 Tyler and I spent all of Monday morning singing lead vocals and redoing some bass, adding acoustic guitars, etc... I think this was a 16 hour day and incredibly productive.  Solo guitar and keyboard songs were recorded during this day as well.  I think our track count was climbing towards 15 and I knew there were more songs to be chased.  Not bad for day two. 
Video - keyboard overdub on "Big Things"
Most afternoons were spent with me working alone while Tyler picked his daughter up from school and prepared dinner for his family.  It was during these times that I explored!  I played one called "Tiny things" on an old church organ with whatever drum sounds it provided. Everyone liked this approach so I kept at it with a Tom Waits cover done in the same fashion.  I also used these afternoons to track the songs I knew needed a quiet approach with just the right feeling behind it.  Most evenings would see Tyler and I reconvening to continue overdubs and getting rather silly due to lack of airflow, and exhaustion.  I often went into a voice which can only be described as "Nick Cave/Elvis standup comic thing" when takes started to break down - these takes are in the vault.  
Shawn came by on Tuesday night to fix his guitar parts, add new ones, and let Tyler and I have our turns as well.  With lead vocals, new bass, and some awesome guitar parts the songs were taking shape.  
Shawn simply painting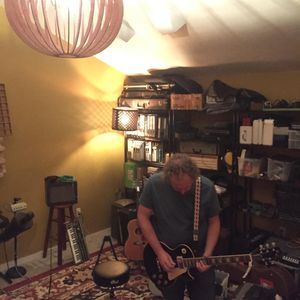 By Wednesday night we were done (nearly 20 songs) except for percussion, vocal harmonies, and extra bits not thought of yet. I still had one song left to track and it proved to be a rocker complete with a nasty sounding farfisa organ. Instant love of a whole new kind.  It ended up on two songs and I tried to steal it but Tyler caught me trying to smuggle it out in an ice-cream cone. 
Tyler can I have this?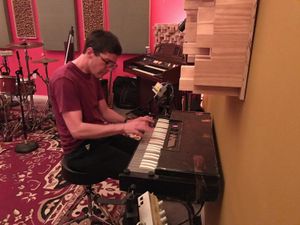 By Thursday or Friday Shawn and I had some free time with no serious parts to chase down. Naturally, we decided to start another new song.  I shared with him my iPhone recordings and he and I chose to work on one strangely called, "Georgia, by the sea."  It was one that I had made several stream of consciousness lyrical takes of and I simply wrote out my favorite bits.  Shawn and I arranged it and we worked on it all afternoon.  It's one of my favorites. 
Tom: cymbal overdub by lamp light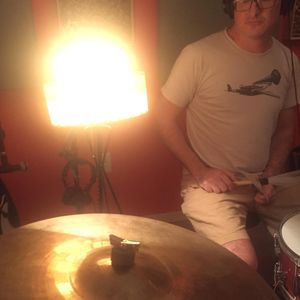 Everyday was productive and everyday was super fun.  It far exceeded my expectations of coming to Austin to start an album.  I had figured that, at best, I would have a lot of great progress towards a bunch of unfinished songs.  By Saturday, our last day, we were finishing up rough mixes.  Tyler called them that.  There's nothing really rough about them actually.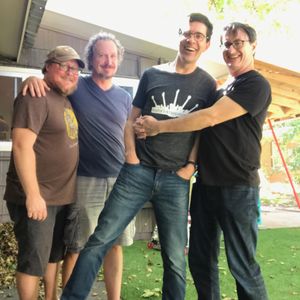 (L to R: Tyler, Shawn, Me, Tom)
My other goals regarding this trip were to eat as many tacos as possible.  Tyler took me to a place called Tyson's before our last working day.  The sign at Tyson's said "You get a free taco if you play a song on our ukulele."  I thought, perfect!  I can do that and it's a song we didn't get to track called "Personal theme song."   
Imagine a world where any song is worth a taco
To summarize this amazing week I would say that it was a personal journey with my best friends.  We warped through time and space chasing down every melody possible.  I can't believe it's over. 
Shawn and I had one final toast!
Cheers to you all!

Scott