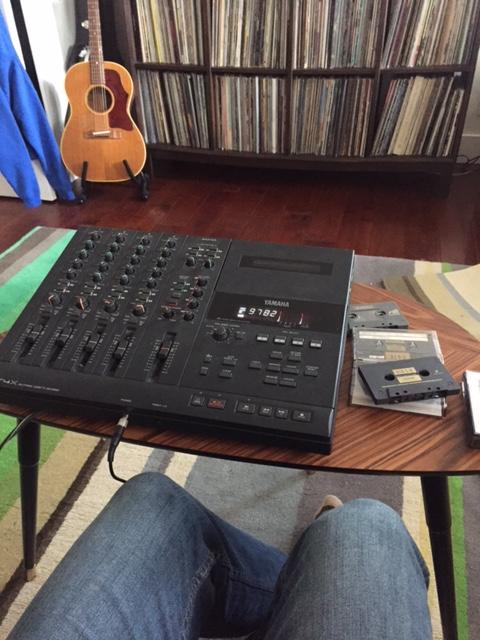 Silver Scooter Live at Liberty Lunch March 1997 
I click the play button on my old 4-Track and hear the crowd. I hear John's voice and Tom's sticks. I hear my old guitar being tuned by my 24-year old hands. I hear quiet stage banter between the three of us. We agree to start. The sticks click and bam we're on playing "Biting my nails."   
If I could feel the power harnessed by my old band Silver Scooter once again as it was when it was in the beginning, I would rejoice. I would actually kill to experience that 1967 Guild guitar tone vibrating my entire body, which was simultaneously being pulsed forward by Tom's tom tom fills and John's bass like a buzz saw. To taste a cold Lonestar from one of those bottles before it went crash in the barrel behind the bar - you know the guy behind the bar tossing bottles doesn't give a shit about anything.  He just wants his shift to end so he can have sex with his girlfriend who's working over at the Electric Lounge. He would have texted her. Those weren't the days. 
I remember setting up my 4-Track cassette deck at center stage with my two SM-58s x/y'd above the monitors. I remember Dave McNair saying "yeah that'll be great." Liberty Lunch was a big venue especially for our little band back then.  To hear me say at the end of the set, "We have singles for sale in the back" makes me smile.  I remember stuffing those singles over at Travis' apartment just off UT's main drag Guadalupe. Folded xeroxed cover around 7" record, stuff in plastic. Next one. OK. Five hundred of those babies finished.  
Back to Liberty Lunch. I just heard my old self say, "This is a new song called Tractor Pull." It was sounding great until the tape ran out and the second half of the song was gone just like that. No 'shit-eating grins' I guess. 
I have always written about the brain and the heart. I had a theory that the heart was actually in control, totally in control. The song 'Brain and Heart' live had power I didn't give credit. It's a fast song and has plenty of attitude. Tom rips off this snare roll for what seems like four measures while John and I are going absolutely Congress Ave. Bridge bat shit crazy.  
My favorite cut of the night is Longfence. It bounces and bobs through subtle tempo changes and volume. Tom starts it with his classic snare, tom, snare, tom every other beat hi-hat thingy he does so well. I can see his concentration in my mind's eye right now. I've known this concentration for over 25 years.   
The songs I will be selecting to share sound as fresh today as they did in 1997. I'm more than positive a Lonestar still tastes as good as any beer on the planet. 

Please check out the Indiegogo campaign and consider making a pledge. When the campaign is at 60% I will be sharing what I've been listening to along with some other rare unreleased demos.  

Take care,

Scott